STEM ROBOT BUILDING @ Blemundbury Hall, Tybalds Estate
STEM ROBOT BUILDING @ Blemundbury Hall, Tybalds Estate
Last week we kicked off the Summer Holidays with an exciting STEM Robot Building event in partnership with Give2Get and Pagerduty.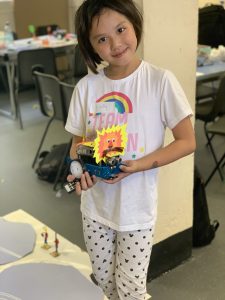 With 50 volunteers in attendance and 15 children, Blemundbury Hall was packed!  Children from ages 8-12 years worked in teams of 5 to come up and build their prototype problem-solving robot.
HCA staff shared the event live on our Facebook – check out the teams planning and children's pitches on the HCA's Facebook page.
Creativity was running high with some brilliant ideas such as the Nanny robot that would help with household tasks (including homework!) and a robot that could distract poachers and save wildlife.
Teams then pitched their ideas in front of a Dragons Den type panel for investment with asks ranging from £100,000 to £2 million!
The Pagerduty employees shared their expertise with HCA's STEM Club as part of their Volunteers Response Week 2019 #RealTimeImpact and Steve Barrett VP of EMEA Sales for sponsoring.
Mark Webster, the Managing Director of Give2Get Europe quotes "huge thanks to Pagerduty for giving their time to the youngsters in Holborn on this project. It was fantastic to see so much enthusiasm from everyone and the children's presentations were fantastic! Hopefully, the activity inspired the children and employees alike to take part in future STEM education projects."
We look forward to using our Robots next term in our STEM classes and exploring the world of robotics further.