Lonely and isolated older people living in the heart of the capital helped by grant from London freemasons
Lonely and isolated older people living in the heart of the capital helped by grant from London freemasons
Lonely and isolated older people in Holborn, Covent Garden and Bloomsbury will be helped back into community life, thanks to a grant of £77,827 from London freemasons.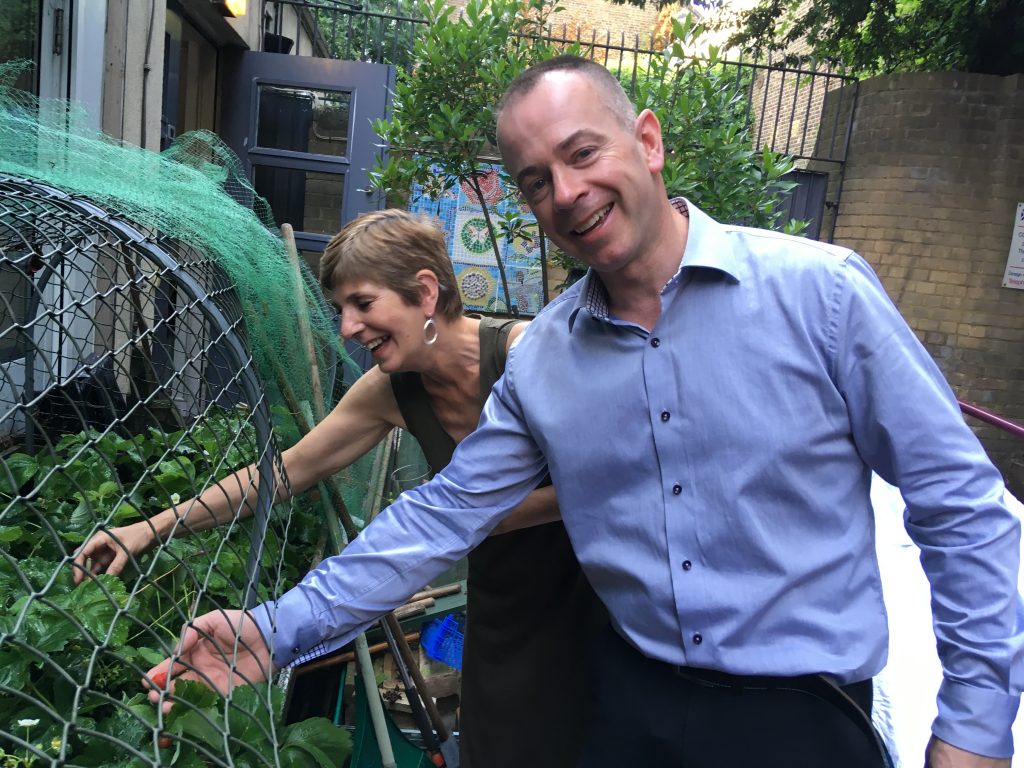 Photo: Kate Blackshaw Befriending Scheme Organiser (left) and Adrian Fox from London Freemasons picking strawberries at Millman Street Community Centre. 
The Holborn Community Association Befriending Scheme brings isolated older people together with volunteers from across the community to meet once a week, have a conversation and enjoy activities including sport, games and art.  The aim is to help 120 isolated older people locally and build         long-lasting relationships across the community. 
Loneliness is increasingly recognised as having a detrimental impact on people's emotional, physical and mental health.  Nationally there are 1.2 million chronically lonely older people in the UK. In the south of Camden, over 45 per cent of older people live alone, and some areas within the community rank in the top 10-20 per cent of lonely older people in the country.
The Befriending Scheme is part of Holborn Community Association's programme of work for older people.  For 30 years, HCA has brought older people together through sport, drama and art activities for everyone over 55 as well as providing day centre care for older people with dementia.
Research has shown that one in five older people are lonely and identified that many older people who live alone rarely see friends, family or neighbours, sometimes going months without having a meaningful conversation with another person. Reports also suggest that loneliness is as bad for a person's health as smoking 15 cigarettes a day and those who feel lonely are also more likely to suffer from ill health. 
The grant from London freemasons comes through the Masonic Charitable Foundation, which is funded by freemasons, their families and friends, from across England and Wales.
Paul Crozier, Director of the Holborn Community Association, said:
"We're very grateful to London freemasons for their generous grant, which will allow us to support people who are lonely and isolated in the middle of the UK's largest city. Our Befriending Scheme gives older people the chance to talk and interact with others. It has a huge impact on isolated older people's health, how they feel about themselves and how much they feel part of the community around them'
Adrian Fox from London freemasons, said:
"I'm very pleased we've been able to help the Holborn Community Association with their excellent project. Loneliness can lead to depression and a range of physical and mental illnesses. It's very sad to think that people living in the midst of a city of nearly nine million people can spend months at a time without having a single meaningful conversation with another human being."
Click here for the full press release
Interested in finding out more about our Befriending Scheme? Check out Befriending Scheme page or email kate.blackshaw@holborncommunty.co.uk for more info.