HCA 101 Christmas Appeal 2021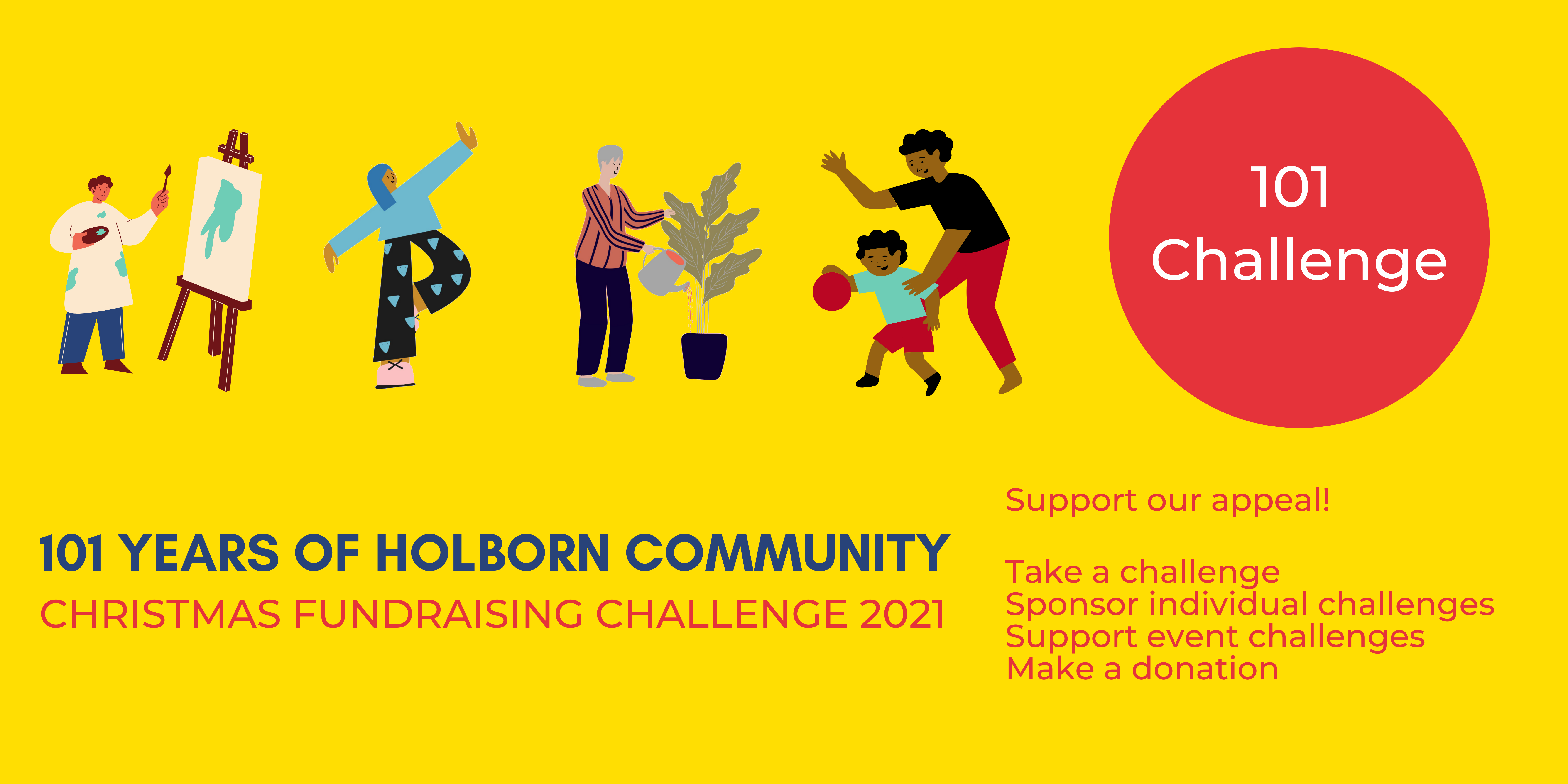 HCA 101 Christmas Appeal 2021
Long before there was Holborn Community Association (as it exists now) there has been community activity, sports and clubs based around the current site of Holborn House since 1920 – 101 years ago!
As our community emerge from the pandemic it's vital that the community have opportunities to improve and maintain their physical and mental health. HCA provide those in a setting accessible to all – each day offering a chance for community members from 0-99 to take part.
If we are to continue to offer those opportunities HCA needs to secure further funds. This winter HCA is asking members of the same community to support our fundraising through our 101 Challenges.  Launching on Monday 22 November until 19 January the 8-week campaign will see individuals, staff and groups come together to help raise funds and inspire donations from far and wide.  With a target of £10,001, the race is truly on!  
How to get involved
Come to a fundraising challenge for your group
Take on an individual challenge.  Have a look at HCA 101 Christmas Appeal 2021 and get in touch with us at admin@holborncommunity.co.uk
Group event schedule
Sponsored 101-minute walk – Sat 4th Dec
We are going to walk for 101 minutes for Holborn Community Association because we want to make walking accessible to all! For more info contact hazel.east@holborncommunity.co.uk  DONATE HERE
Event: 101 Tumbles Monday 13th/Tuesday 14th & Saturday 11th December
Part of HCA, Holborn Gymnastics Club has been going for over 30 years – we know because our coaches started when they were little!  Our classes are lots of fun and a chance for children and young people across to take part in gymnastics in an amazing space – and maybe become a helper or coach themselves one day.  Raising funds as part of the HCA 101 Challenge helps to keep our classes going as well as helping everyone across our community keep moving and having fun. Over three days each class will be doing 101 creative tumbles collectively! From bunny jumps to cartwheels- please help us tumble towards our target! For more info contact admin@holborncommunity.co.uk DONATE HERE
Event: Under 5 challenge – 7th & 9th December
We are doing 101 laps of the soft play for Holborn Community Association because we want to keep people toddling at Holborn House!
Book Tuesday 7 December   Book Thursday 9 December DONATE HERE