Fun Palaces — Community, Creativity and Adventures
Fun Palaces — Community, Creativity and Adventures
Hazel East is our Community Arts Manager at Holborn Community Association, this year she led on hosting our second Fun Palace at Conway Hall.  Here she shares what Fun Palaces are all about and why they matter: 
"If you asked most people what a Fun Palace was in 2012 you'd have most probably gotten a blank look, or maybe a guess at something to do with a fairground. Prior to 2013, the words 'Fun Palace' were only really heard together amongst two groups, theatre-makers and architects.
Conceived in the 1960s by pioneering theatre director Joan Littlewood, and architect Cedric Price, a Fun Palace was to be a 'university of the streets', a place where anyone and everyone could come to learn a new skill, share something with others and be free to experiment. Joan Littlewood described the Fun Palace in its original blueprints as a place to 'Choose what you want to do – or watch someone else doing it. Learn how to handle tools, paint, babies, machinery, or just listen to your favourite tune. Dance, talk or be lifted up to where you can see how other people make things work. Sit out over space with a drink and tune in to what's happening elsewhere in the city. Try starting a riot or beginning a painting – or just lie back and stare at the sky.' Joan and Cedric's vision for this creative, political, exploratory space never came to fruition, but thanks to an intrepid group of creatives it's been given a new lease of life in the 21st Century. In 2013, writer Stella Duffy led a discussion at Improbable's annual Devoted and Disgruntled Open Space event entitled "Who wants to do something for Joan Littlewood's centenary in October 2014, that isn't another revival?" After a fruitful discussion, the idea to create a Fun Palace came about. Stella was joined by Sarah-Jane Rawlings and a host of others, who came together to encourage and inspire people across the UK to celebrate Joan's centenary by holding their very own Fun Palace. The first Fun Palace weekend was held the following year, on 4th and 5th October 2014, and to their surprise (and delight) 138 Fun Palaces appeared across the country, and the annual event was born.
Conway Hall Welcomes the Community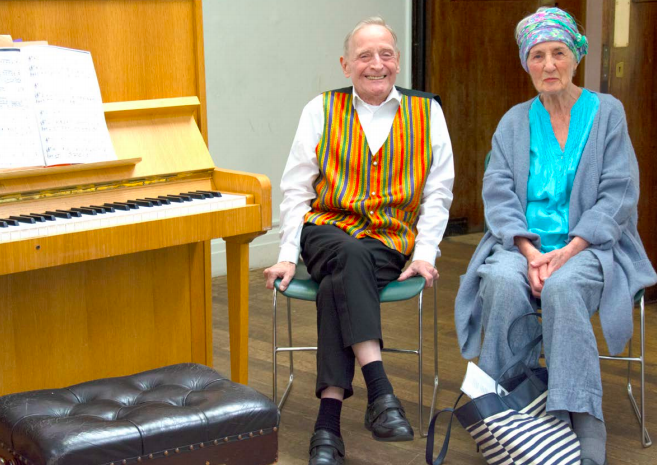 Fast forward to 2018, and Fun Palaces were very much in full swing across both the UK, and for the first time, the wider world. The arts team at Holborn Community Association (HCA) had realised that their aims of bringing arts and culture to the local community fitted well with the by now rapidly expanding 'movement' of Fun Palaces, and set out to join in and bring Holborn its first Fun Palace. HCA approached Conway Hall to see if they would be interested in hosting a Fun Palace, with a view to bringing the local community into an exciting space that they might not have visited before. In 2018 planning started by talking to as many people as possible, to find people with the skills to run workshops or activities but also to find those who might like to come along as participants. The number of responses was overwhelming, and allowed for a varied and eclectic programme from drama games to giant flu virus making, art to gardening, joined by a wide range of local community members and organisations. This diverse mix was replicated in 2019, when lots of people, including some new additions, came along to share their skills. Yoga in the library, storytelling, digital orchestras and lots of slime making sent everyone away with smiles on their faces.
What Makes Fun Palaces Special?
HCA works with a wide range of local organisations to create a vibrant and diverse offer of support and activities for local people. The partnership with Conway Hall on Fun Palace is especially important for a number of reasons. Instead of just being a space where professionals deliver activities, Fun Palace encourages people to share their skills and passions with others. This positivity is demonstrated by representatives from Carpmaels and Ransfords LLP, a local law firm, who this year swapped law for slime making and said their highlight was "Interacting with the kids, they loved it and it was great to see them so engaged and having fun!". Fun Palace is curated to be as open and inclusive as possible, and 2018's event included a musical performance by a group of local learning-disabled adults, led by Sarah Johns from supported housing provider CAT. After the workshop Sarah said "I am still feeling so happy from yesterday. Thank you for the opportunity. Was so good to have the platform and space to perform. I'm feeling very inspired and I know the rest of the group are too. It was a real confidence boost." This positivity is echoed by feedback from the community attending as participants, one of whom said "Thank you so much for such an amazing day. All the activities were great. An incredible way to bring the community together!"
The Need for Fun Palaces — the Importance of Accessible Community Spaces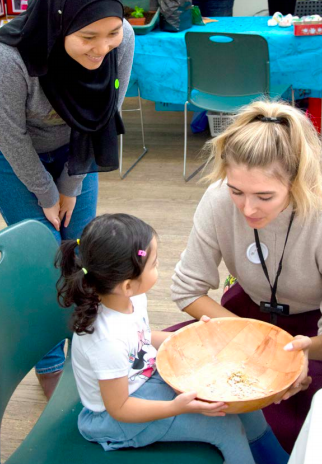 The diverse and vibrant community in Holborn is a big part of what makes our area so unique, but having so many different micro-communities living, working and studying alongside each other can also bring challenges. Holborn is fairly unique for a central London location, as it has a high level of residential accommodation (with 70% being social housing) in an area that is also densely populated with office and commercial working spaces alongside large universities and educational institutions. Of those living in our neighbourhood, 90.7% of families receive tax credits and 42.1% of children are living in poverty. Holborn's residents are 59% non-WhiteBritish and the large British-Bangladeshi community in Holborn (12%) faces multiple deprivations (Camden Neighbourhood Mapping, 2016). This creation of distinct communities, comprised of those that live in the area and those that work or study in the area, can lead to a mismatch of needs between the different groups.
Practically, those living in the area often feel like local shops and amenities cater more for the working communities' transient needs, rather than their day to day needs. This is also reflected in engagement with arts, as although we are surrounded by cultural institutions there has historically been a lack of participatory, community focused art provision locally. There is a clear disconnect between these 'mainstream' organisations and the local people living on the next street. There is also a feeling from those who work or come into the area to study that they do not 'belong' to the community, despite spending a large amount of their time in Holborn. In March 2018, The Mayor of London Sadiq Khan reflected these observations through his comments in his Strategy for Social Integration. He stated "Our approach needs to go much further than simply integration between different nationalities, ethnic groups or faiths. It must also take account of other important aspects such as age, social class, employment status, sexuality, gender and disability. It is about social integration in a wider context – our bonds as citizens, and how we interact with one another." (Sadiq Khan, 2018, p.4) He went on to outline three overarching aims in the strategy: supporting Londoners to be active citizens, promoting shared experiences and tackling barriers and inequalities, all three of which resonate with the reasons and aims behind Fun Palace, and the original vision set out by Joan Littlewood and Cedric Price back in the 1960s.
The programme and ethos of the event are complemented hugely by the unique and interesting setting of Conway Hall. For HCA, Fun Palace breaks down the 'threshold anxiety' of entering a new space through providing an event at which members of the community are not only welcomed as participants but encouraged to attend as leaders and experts in their own right. Linking the community with the spaces around them helps to strengthen people's pride in their area, as well as giving them the confidence to come back to Conway Hall for other events in future. Once people feel that they have ownership over local spaces they begin to feel 'part of' creativity, providing a platform for a wider conversation around access to more mainstream cultural organisations, traditional art galleries and educational institutions.
If We Don't Lost, We'll Never Find a New Route — Joan Littlewood
Thanks to Conway Hall being willing to open their doors and try something new back in 2018, two brilliant Fun Palace events have provided important, thought-provoking and fun spaces for the community to come together, share their skills and experiences and positively challenge the perceptions of others who live alongside them. If you're interested in Fun Palaces and would like to find out more the Fun Palaces website is a wealth of information. If you can wait another 11 months then head down to Conway Hall for the next Fun Palace on 4th October 2020, all you need is an open mind and a sense of adventure!"
Citations Littlewood, J. (2016). Joan's Book: The Autobiography of Joan Littlewood. Bloomsbury Publishing, p.484. The Mayor of London. (2018). All of Us, The Mayors Strategy for Social Integration. Greater London Authority. p.4.
This article originally featured in Conway Hall's Ethical Record Winter Edition 2020.