Success story: Bryony Summer Peer Intern
Success story: Bryony Summer Peer Intern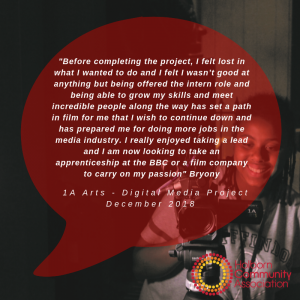 To celebrate the launch of our summer 2019 peer intern post at 1A Arts, we look back at the experience of Bryony who successfully took on the role last year.
Bryony is 17, has been accessing projects as part of our digital media project for the last two years. The digital media project is a multi-strand project that allows young people to gain new digital skills through weekly media arts club sessions, as well as accessing trip and the opportunity to take part in our annual summer film project.
In 2018, Bryony's enthusiasm and professionalism earned her the role of Peer Intern on our Summer Film Project. Bryony knew she wanted to work in film when she finishes school, and applied for the role to help her gain more hands on experience. She worked alongside our two filmmakers to support all aspects of the production, from pre-production through to editing. Bryony impressed the team so much that they recommended her to theatre director, Emma Bernard, who was looking for a young filmmaker to help create a short promotional film for the Bloomsbury Festival. Emma was so impressed with the quality and professionalism of her work that she has offered her a paid role as a filmmaker during the festival last October, and is hoping this will lead to further work within the film industry.
Click here to apply to our summer 2019 peer intern post.  Deadline for applications is 10 AM Thursday 21st March
With thanks to Children In Need and John Lyon's Charity for funding the digital media project at 1A Arts.