Metro Bank Brings Easter Fun to Millman Street
Metro Bank Brings Easter Fun to Millman Street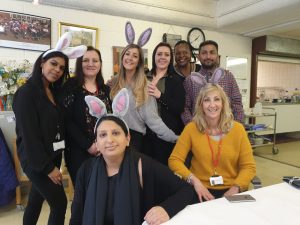 This Easter, Millman Street Community Centre hosted their own Easter Party with thanks to our friends at Metro Bank.
The team of 8 volunteers from Metro Bank head office came down to our Easter event, armed with a generous donation of Easter Eggs and hot cross buns – complete with their very own Bunny Ears.
With 40+ older people in attendance, Ritchie Richardson from the Mickie Driver Variety Collective provided groovy rock n' roll rhythms on his guitar, with guests joining in for a boogie.
Older person Thelma says "I want to give a big thanks for Metro Bank for my Easter Egg and I loved the hot cross buns!"
Millman Street Community Centre provides a variety of activities for the over 55's, with a goal of bringing people together and reducing social isolation.
Andrew Rogers, Older People's Services Manager says "for many of our members the holiday period can be a lonely time without friends and family to celebrate with.  Events like this one (with thanks to the help of our volunteers) go a long way to reduce that".
Millman Street Community Centre has been working with the Metro Bank team since last Summer.  Including coming along to our Christmas Party and taking part in our big gardening spring clean.
Many thanks to our kitchen staff for their Easter lunch buffet and a huge thank you to Lyn and her team of Metro Bank Volunteers for coming down.  We look forward to the next one!
Click here to donate to Holborn Community Association. For details on how to access our services for older people or make a referral contact us.