Ben Uri's Art in Residence
Ben Uri's Art in Residence
Since August HCA has been hosting Ben Uri Gallery for their Art in Residence class every Friday at Millman Street for the over 65's.  Our members take part in a hour-long art discussion followed by art-making after lunch. We caught up with Emma Hollamby, Arts and Dementia Programme Manager to find out more. 
"The class starts with me bringing a replica of a painting displayed on an easel, I ask the group what their first impressions are and feed in facts about the artist and their life. 
Where possible we will spend time on people's responses and the memories it brings up. We have no wrong answers and it's all part of a broad discussion.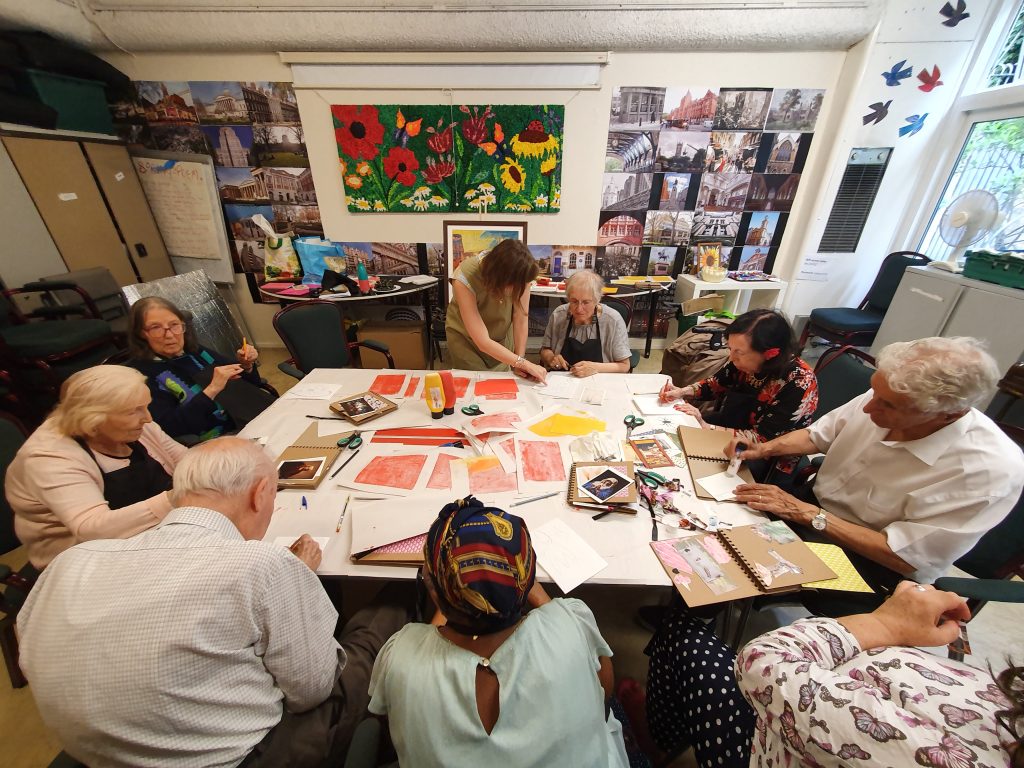 Over 8 weeks we have also been doing art-making. A group of 6 of us have been exploring different styles of printing and mark making culminating on some work on fabric. 
Working with HCA ties in well with Ben Uri as an organisation as we were looking for art in residence partners when Andrew got in touch. I came for a visit and Millman Street and it had such a lovely atmosphere. 
It makes a difference to sit and have lunch with everyone during the break too, we've broken down the teacher/class vibe which makes for much better discussions.  I also get to know people that don't attend my sessions here, which rarely happens anywhere else, so it really feels like being a part of the whole centre. 
So far I've learned a lot from the group. Rose is a rapid printmaker, I couldn't keep up with her! I could never get tired of hearing all of Ivy's celeb stories (Tom Jones was my favourite). David has a keen eye for detail, picks out bits in paintings I've never seen. The sessions have been a bit of a lifeline for Diana, who's been looking for a friendly creative place like HCA. Helena was a lifeline last week pronouncing the welsh town of Ystradgynlais for me. I think having ten people in my discussions (including Queenie!) is great.
The first block of sessions has been part of the Ben Uri arts and dementia institute (BUAD) programme. In late October the classes will focus further on exploring visual arts engagement for those with dementia and will be joined by a researcher from UWL." 
For more info get in touch with andrew.rogers@holborncommunity.co.uk. To find out first about Millman's Street activities and session sign up to their newsletter here.