"It's nice to be pampered", Derek the Hairdresser at Millman Street
"It's nice to be pampered", Derek the Hairdresser at Millman Street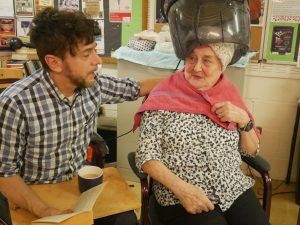 Once a fortnight our Older People's Resource Centre at Millman Street hosts mobile hairdresser Derek Roman who gives a wash, cut and colour to many of our older members.
Derek is a state registered mobile hairdresser cutting hair in community centres, sheltered accommodation and nursing homes in London and has been cutting hair at Millman Street for over 3 years.
For Derek he says he "likes the freedom of being a mobile hairdresser, when I was in the salon I felt very constrained and would often go without lunch".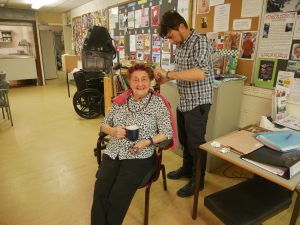 He has built up a regular set of clients building great rapport with his older clients who "like having continuity over the years".   Such as Joyce (pictured) who books her appointment every two weeks for a cut and shampoo and ever six weeks a colour.
Joyce says that Derek "is a jewel" believing that "it's nice to be pampered.  I have always been quite careful with money and as i am coming up to ninety i think i deserve to get it cut regularly now.  My little friend here Derick makes me look beautiful".
We think so too Joyce!
To find out more about becoming a member at Millman Street and the services we offer for older people please call 02074052370 (option 1)